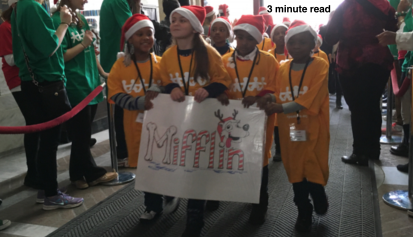 Just a few weeks before Christmas, I was a volunteer at a holiday party for underprivileged children. Underprivileged isn't my word. To get to the party they had to be identified as 'at risk' by their teachers.
I was helping my friend Carol who had been a volunteer at the event for several years and ran the ornament booth. Groups of kids, organized by their elementary school, descended upon our ornament station along their merry journey to all the booths, each one created exclusively for their delight.
At our booth, we helped the kids make candy canes from red and white beads strung onto fuzzy white pipe cleaners.
As each little reveler walked up to our table, we handed them starter canes with four beads already on them. One white bead, then red, then white, then red. To complete the candy canes, they had to add 20 or so more beads.
The kids were diligent. Once you handed them their starter candy cane, they went to work like little Trojans. They were adorable too. Innocent and pure, cleared eyed and trusting, and maybe a little intimidated by the sudden blast of holiday fun.
The thing was, once the kids got to work, they continued the same pattern that was already on the pipe cleaner: white bead, red bead, white bead, red bead.
I encouraged them to break the pattern. "You know, we got this started for you, but you can put your beads on any way you want. Maybe, it should be red, red, red, white, white, red, white. Maybe it should be all red? Maybe it should be all white with one red bead?"
Across a mighty parade of Lakyas, Cartrells, Laishas, and Tyreeses, not a single one of them broke the pattern.
That's ok. The way I figured it, I was simply planting seeds. Without question some of them, perhaps many of them, would remember one day someone told them the way things come is not necessarily the way things need to go.
Yep, the seeds in those beads might get us a scientist, a doctor, a ballerina, a gifted parent, or perhaps all of them, and maybe a lot more.