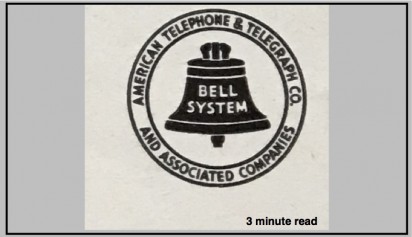 In March of this year, Apple Inc. was added to the elite, 30-member Dow Jones Industrial Index, and AT&T was unceremoniously removed.
In their press release, S&P Dow Jones Indices, said "The timing of Apple's addition to the DJIA hinged on two stock splits: Apple's 7:1 last June and Visa's 4:1 on March 19th this year."
Because the Dow is a price weighted index, the March 2015 Visa split underweighted the information technology sector, while Apple's earlier split will enabled it to join the Dow index without a disproportionate effect.
But what did this rearrangement of the Dow components indicate about our economy?
I suppose it said about as much as when Sears, Roebuck & Co. was removed from the Dow in 1999 and The Home Depot was added. Clearly, the era of the general merchandiser was over and the era of the big box store had arrived.
In telecom, the dethroning of AT&T signaled to me the race in the carrier business to build the networks is largely over, though I suppose there is some upside in the global wireless business. It also demonstrated the companies utilizing the networks to deliver benefits to consumers, governments and institutions, such as Facebook, Comcast and Amazon to name a few, are now driving the economy.
What I wonder though is the palace intrigue behind AT&T being removed from the Dow.
After all Verizon remains among the Dow elite and Verizon was once a unit of AT&T. I can't but help think it's not that cut and dried; that AT&T would not get dethroned without some back channel communication.
This is after all the company that, in 1999 may have played a role in getting the CEO of largest US financial behemoth at the time, Citigroup, to tell the telecomm analyst in his Salomon Smith Barney unit to take a 'fresh look' at Ma Bell. Subsequently the analyst, Jack Grubman, raised his rating to BUY, and then a lot other saddening revelations came to light about influence peddling at the highest levels.
Were such influences afoot between S&P Indices and the back channels of AT&T concerning the sudden removal, it would seem to be a scene from a Greek tragedy. "God Dow, take my son Verizon, not me. He was sprung from my loins, and cannot match my power."
Truth be told, telecom is a crappy business, in my view. The only thing left for the land line and wireless carriers to do is duke it out over market share until one of them puts a bullet into the head of the other. Really, it could all be state owned and managed by the Interstate Highway Commission, as long as the geeks there can manage to keep the Internet up and running.