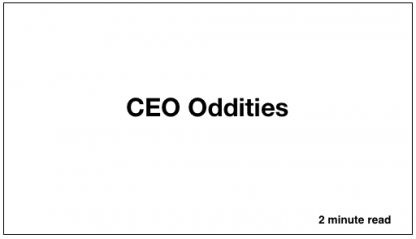 In October, two CEOs made me scratch my head. One in a questioning fashion, the other in an admiring fashion.
I admired Frank Bisignano CEO of First Data Corporation (FDC) for striding onto CNBC's stage perched atop the New York Stock Exchange moments after his company went public.
OMG, every lawyer in the deal was probably having a coronary.
Silence and not conditioning the market after a public offering is a sacrosanct principal of securities law. At least, that's how it's been explained to me by legions of counsel over the years. There is a fear that talking about any subject outside of what the prospectus says might be deemed as conditioning the market. Then there's a fear that the simple act of communicating, even if it's what's said is in the prospectus, might be deemed as conditioning the market.
There are safe harbors, and likely Mr. Bisignano availed himself of these. During the CNBC interview he talked about organically deleveraging the balance sheet by mid-2016. That might seem risky, but alas, there it was, discussed in excruciating detail on page 8 and page 116 of FDC's SEC registration statement. Frank, I think everything's going to be ok.
In my view, what the paranoia over communications amid a securities transaction misses is that talking to the public is not just unabated risk. It can help and inform investors in ways that filings never can.
The second time I scratched my head was when Wal-Mart (WMT) CEO Doug McMillon said on his blog that "The reaction by the market – while not what we'd hoped – was not entirely surprising," referring to a news announcement that Wal-Mart will be spending profit eroding billions to build a larger online business.
I question the wisdom of a CEO blog, but that's beside the point. More importantly, there are very few instances when a CEO should comment on the trading in his or her company's shares, and this did not strike me as one of them. CEOs can be happy or sad about the business trends, but most institutional investors have indicated on several occasions throughout history they are not interested in what the CEO thinks the market has right and wrong about their stock. Investors who share this view might wonder what else about their relationship is Mr. McMillon unclear about? That's not me. For better or worse, that's how investors think.
Read more: http://www.nasdaq.com/article/ceo-oddities-this-month-how-public-comments-can-work-for-or-against-you-cm535119#ixzz3qMQgKZCC