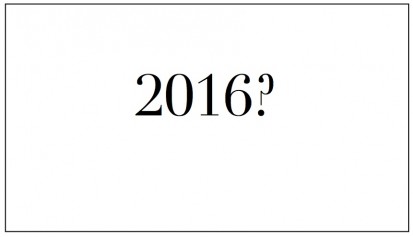 Twitter will be acquired. Wall Street loves a good story, but it hates losses. With half a billion in losses in 2014, and the company on track to lose more this year than last, somebody is going to pull the plug. Parenthetical prediction: Twitter CEO Jack Dorsey will not survive the year and focus on Square, also losing money.
FANG stocks will accelerate. Facebook, Amazon, Netflix, Google will continue to eat other industries with the possible exception of Netflix, where competition is coming out of the woodwork.
A shoe dropping hack will occur. Every day the Pentagon alone faces 10 million attacks, and they have one of the largest budgets in the world. What about the rest of us?
Venture capital will crash. Not in the spectacular fashion of equity and fixed income markets. But the transformation of unicorns into unicorpses will spook the entire industry.
The highest price paid for a NYC penthouse will break another record. With the penthouse occupying the entire 89th and 90th floors of One57 going for just over $100 million, and more iconic properties going up on 'billionaire's row" can $110 million, or more be far behind?
Solar energy prices will decline and utilization will increase. With oil hitting new lows, progress in solar will be less newsworthy and less visible, but the accumulated investment in solar is too large for any of the players to retreat and the pressure to produce profits is too intense.
Donald Trump will drop out of the presidential race. His numbers will prove to be driven more by a desire on the part of the electorate to punish the political class than a belief his policies are a tonic for the country. As the election nears, voters will draw more familiar battle lines.
Business lending will increase. While a recent rate increase makes borrowing more expensive, it also makes lending more profitable, and ultimately lenders have more sway in credit disbursement than borrowers.
More states will legalize pot. Tax revenue goes up and enforcement costs go down? Even the most ossified state legislatures are taking notice.